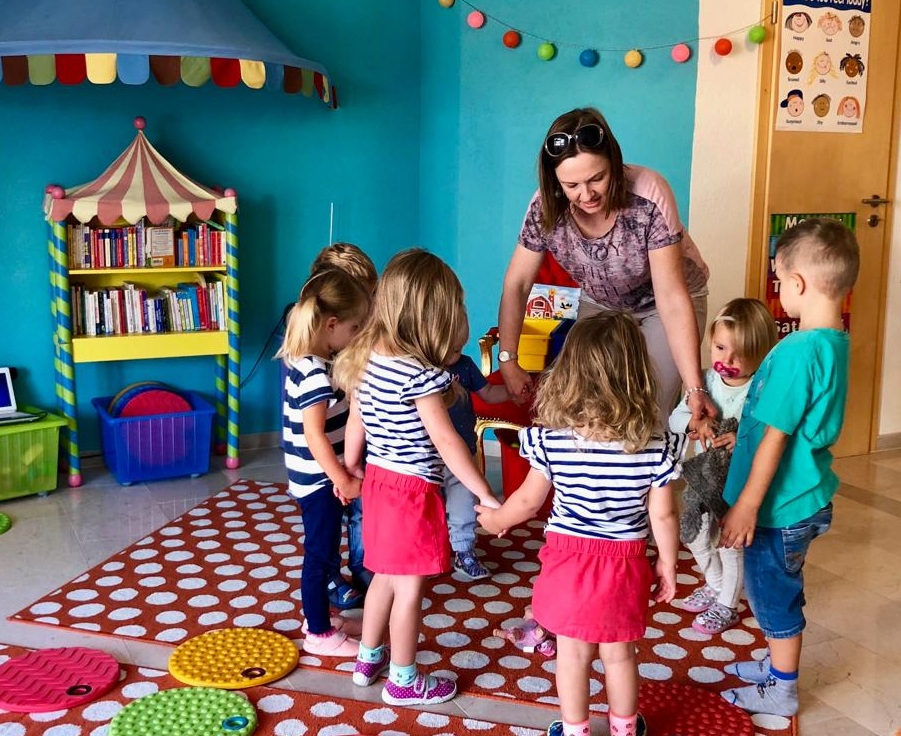 Ages 2 to 4
This class is a jump start for children to learning English. Our playgroups include a variety of creative and learning activities like painting, cutting, sticking, puzzles, language games, stories and crafts. Music and movement is an integral part of our program.
The children are also inspired through rhymes, exciting games/activities, finger plays and books. During the 2/5 hour class, they will have time for free play as well as developing their social skills. Diapers are changed and hugs freely given.
Open to native and non-native English speakers.
Playgroup
Our playgroups are two and a half hours of fun, English language immersion classes. Our sessions are carefully structured to ensure that your child is learning useful words and phrases for everyday situations while having fun at the same time. The structure allows the learning process to flow through varied activities that emphasize learning while doing. Songs, puppets, games, dance and art along with some reinforcement table exercises are some of our teaching methods. Music is employed throughout as studies have shown this boosts your child's memory and aids them in pronouncing words like a native speaker. A further benefit to playful learning sessions is that the child feels comfortable and safe which promotes an ideal setting for both socializing and learning. Playing with other children is one of the key ways in which they'll pick up another language.
We welcome both native and non-native speakers.
Choose from our morning or afternoon sessions, either once or twice per week.
Cost per session is 45/ Chf385 per quarter (10 x 2.5 hour classes)
We offer private lessons and sibling discounts.
For the playgroups, a flat fee is calculated for the quarterly attendance of your child. The quarter is usually ten sessions but can be as short as eight or as long as twelve. Over the course of the year, it equals out.
Ages 0 – 2.
This is a dynamic language support group for parents and their babies/toddlers. It's a free play structure for children at each meeting, and coffee/tea and conversation for parents. A great way to meet other moms and the beginning of socialization for infants. You can buy a 10 time punch-card and drop-in when you can!
Drop-In Mom & Tots

Wednesday mornings 9:00 – 10:15
Chf10 per session (1.25 hours)
Ages 1.5 - 8
Once a month, on a Friday or Saturday night, we give parents the chance to dine without the whine! Kids can enjoy an evening with friends playing games, making crafts, watching a movie with popcorn and having fun. Bring their pajamas so you can put them right to bed when they get home. Please contact us for the full schedule and dates.
Kids' Night Out
Dine without the whine! Relax and enjoy your meal knowing your kids are having fun in a safe and supervised environment. Dinner, movie, popcorn, crafts and play.
Chf 45 / Chf 15 each additional sibling.